South Of The D, (and Still in Canada)

My Border Life
Living in a border town, it was nothing to side-step into the country next door. I commuted to school in Detroit, for a year, and even though I lived in Canada it was just one hour away.
That was closer than for some locals. The students I met could not believe I travelled "all the way from Canada".
"Did I own a dog team to do this?" was always a playful reminder that Canada, was truly, NORTH.
At least, that was the general consensus.

Going to school in Detroit opened up a whole new world for me.
But I was 17; everything was new!

Let's Do Geography!
I began by explaining that I had to travel NORTH to get to Detroit, from where I lived in Canada.
No, they said, this could not be.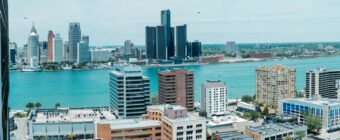 Come on, it's just a teeny part of the whole of Canada. Say that you still like us!
I showed them a map but I soon learned that the map was wrong.
Funk And Wagnalls obviously had issues and should be updated.

I showed them the 49th parallel, along the border between Washington and British Columbia.
I pointed out that if you scroll down to the 42nd parallel, and follow that line west from where we were, it takes us to the northern border of California!

That's actually how far south we all were! 

"Atlas got that wrong too". They said: "Everything needs updating". I wept.

Big City Life:
They were such good sports to put up with my comments. I did not realize that I was among real BIG City-people!
These People were into art and theatre. The concerts downtown were always full……

And this was the home of Diana Ross, Marvin Gaye, Stevie Wonder…..the list is endless.
This was MOTOWN on our doorstep.
Never did we imagine it would become world-famous.
It was our era and we were so fortunate to have this influence on our music.
We grew up watching American Bandstand every day after school because we had AMERICAN TV! We loved it, and this was just a passive by-product of living there!
My mischievous self told my classmates that the airwaves were cut over the Detroit River and we were denied U.S. TV. (I couldn't help myself).
They saw through the "cutting the airwaves" thing I tried to pass off. It did leave us thinking though. How would we even know, anyway?
And Different Customs:
My school pal, Doris, asked me how different it was in Canada with the French influence.
I answered that we were committed to equal language opportunities for all. So, out of respect, we laughed in French sometimes.
You know: "les haha", "les haha".
She took it so well, and by that, I mean that she laughed about it, and brought it up constantly.
Doris took no prisoners.
Just Follow The Road!
The main road from the bridge that connected us, ran through our town. It reached the outskirts and beyond into the wilderness.

From there you could travel to remote destinations like Toronto, Ottawa, and the Airport.
We were stopped on that connecting road many times, by people who needed directions. "How far to Montreal?" (Us): "Fifteen minutes up the road". (It was 550 miles away).

Can I make a comparison here between what we did and those kids in Belize who will watch your dingy for a fee then untie it and let it float away?
We thought we were just so smart. We were cool!
Jolly Old England!
Before Canada changed to metric, 45 years ago, there was a sign on that road through our town. It read, "London 117 Miles". (London, Ontario).
A Michigander stopped at our local gas station and remarked on the sign: "Are we that close to England"?

All these years later, I reside on the Thames River, halfway to London, in Ontario.
What would people do if they saw the Thames River sign? Start looking for STRATFORD – and we have one of those, too!
This was our fault. How would someone know there was a London, a Thames River, and a Stratford in Canada?
I didn't know this until my grade nine class went to a Shakespearean Festival in Stratford.

Maybe you don't want to just wake up here in the middle of the night.
Shopping!
There is this thing about being from a sleepy town. We were hicks. At thirteen years old we went over the border again, to shop in the "D". At JL Hudson we tried to run up the down escalator.
Do you think people knew we were from out-of-town? That we were from the frozen north?
It was July; the snow had melted.
And what about the stores? A town of 125,000, does not have big stores. You don't have a choice.
In the D, they had malls! This was huge. We still did not have A mall, nor an expressway through the city.
See? Small town.
One summer my older cousin visited me. She was 16 and we went to Detroit to shop.
We were going to another country! She was so impressed: shopping in Detroit.
I was SO gratified because I was the younger cousin.
Now I was becoming cool – for my age!
As tweens, when we did shop, the trick was to get past Canadian customs without paying for duty on your clothes.
We wore everything in layers and sometimes forgot to take off the price tags.
They were kind, actually, and let us get away with most of it. But they weren't fooled; they were professionals after all.
They KNEW we were wearing 2 sweaters and 2 pairs of pants in the summer heat.
We bragged that we had outsmarted customs……So innocent.
En-ter-tain-ment!
We would double-date and go over to Detroit for dinner and the nightlife. It was perfect for us because we enjoyed all the benefits of the Big City, without any downside.
From Canada, we drove through the tunnel, and in 20 minutes we were in Detroit. We came home after our night out and returned to our sleepy town, with no noise, no traffic…….The payoff.
Baseball, Boblo, and Belle Isle
I couldn't imagine Detroiters crossing our border to enjoy the nightlife, or frequent new and exciting restaurants.
We didn't have any.

But, if they crossed the border to see wide open spaces and quaint towns…. well, we had some of those.


We attended baseball games at Tiger Stadium and car shows at Cobo Hall. And from THAT side you could clearly see Canada. "Hey, look at that, Canada!" "Is it the real Canada?" "Is that the whole country?"
Every summer we went to Boblo Island, on the Boblo Ferry. The Island was an amusement park and the boat ride was a nice experience in itself. Sadly the Boblo duo closed but we enjoyed it in its prime.
Nothing anyone says about those days can minimize the fun we had.
We were teenagers; we enjoyed everything.
Belle Isle down the river, was a wildlife sanctuary, with beautiful glasshouses and trees everywhere. We rented bicycles there and spent hours exploring, eating, and sleeping on the grass.
There were baseball games going on and pavilions for gatherings and barbecues.
Along the shore, we could see Canada over there, and it was so close we noticed people walking along the riverside.
Two countries so attached, and we took this for granted.
It was always this way. We did not see this for the privilege it was.

I secretly admired the Americans because their knowledge about Canada was limited.
They had everything they needed in their own country.
I constantly baited them and told them I experienced the same climate as they did.
Maybe just a little WARMER as I was further SOUTH…….
Don't judge me – they wanted to hear my stories.
The Family Unit
I met so many nice people, diversified in their personalities, individuals all.
I loved their family spirit, tight-knit, and close.
I was struck by how many people there were EVERYWHERE.
People had to 'fight traffic' and 'park in the fire lane'.
This was unheard of in our little town.
Most destinations were about an hour's drive. No matter how near or far there was so much to see!
The malls, the countryside, the restaurants.
My friend, Lindsay took me to new places for lunch with her Mom Molly and sister Janice. We went everywhere!
I always felt like they were so special and many a weekend was spent at their house.

Lindsay's family get-togethers were marvellous, with lots of children and big yards. Lots of food and drink, some kind of football game was going on and there was a swimming pool.

Mom Molly made the most incredible meatloaf. When I make meatloaf now, I always want it to be just like hers……I hope she approves.
The kids were at the right time for education on the world stage, with an array of opportunities before them in America.

Their interests were so varied and way over my head.
I looked at our next-generation pool and was proud of our following. After the Viet Nam war, our world was hopeful again.

Lindsey's family demonstrated the patriotism of these people! They carried that feeling in their chest.
They can be proud of what they have achieved in their land.

We can be grateful that they shared with us so freely…….So willingly.
Regards, Corinne
Next Time: "Did I Mention Food?"